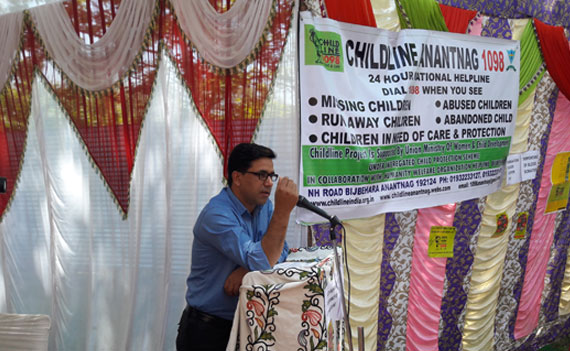 With the efforts of Humanity Welfare Organization HELPLine NGO, for the first time in the district, Anantnag Child-line Project 1098 under ICPS supported by Union Ministry of Women and Child Development was launched in the January 2016. CHILDLNE is a national free and emergency phone and outreach services for children in need of care and protection. Any child or concerned adult can call 1098 ( toll free child helpline) for any kind of assistance emergency help. CHILDLINE ANANTAG is providing emergency help to those children who are in need of care and protection and child in conflict with law.
The main issues on which CHILDLINE intervenes are:
Missing children
Child labour
Child marriages
Abandoned or lost children
Child in need of care and protection.
Abused Children
Street Children
Child in need of shelter
Ill and alone children
Child-line project was started in the January 2016 in district Anantnag under the Humanity Welfare Organization HELPline Bijbehara. CHILDLINE Anantnag intervened in more than 350 cases from the inception of the project. It has been proved as lifeline for the children who are in need of care and protection. CHILDLINE Anantnag has also provided emergency medical help to the pellet and bullet victims who were injured during the summer unrest 2016. Besides that CHILDLINE Anantnag provided educational, nutritional and medical help to the poor and orphan children. More than 80 children were linked with different govt. schemes and orphan sponsorship schemes. Moreover Child-line Anantnag has been conducting trainings, workshops and awareness programmes to make our society aware about the importance of protection of rights of children. Any child in need of care and protection can call our toll free helpline 1098 for any emergency help.
Child-line is also advocating various issues which are very important for the protection am development of children. Our first and foremost motive is to get Juvenile Justice Board, Child Welfare Committee, City Advisory Board established in the district Anantnag ,the provision towards establishing such bodies has been mentioned in JK Juvenile Justice (Care and Protection )Act -2013.Childline has made a strong recommendation to district Administration and is continuously following the progress.